Return to Headlines
Security Update from the May 9 Board Meeting
May 10, 2023
Dear District 113 Community
Follow up on security from the May 9 Board of Education meeting
Shared more information about enhanced security at graduation

Announced survey to gather parent, student and staff feedback to launch May 16

Analysis of survey data as well as the District's Security Consultant Paul Timm will take place at the May 30 meeting

Update on Ethan's Law; Director of Security position
The safety of our students and staff is our first priority so it logically follows that the topic of security is important enough to send a separate email with the highlights from the Board's discussions last night.
Enhanced Security at Graduation
As previously announced, security at graduation will be aligned to Ravinia's regular security procedures at concerts. What does this mean?
All entrants must produce a ticket

All entrants must go through metal detectors

All bags are subject to search

K-9 teams will patrol the grounds

As in years past, security personnel onsite will include D113 security, Ravinia security as well as members of the Highland Park Police Department
Families planning to attend graduation should plan ahead and allow extra time for entry. To reiterate, these are Ravinia's regular security procedures; they are not in response to or in anticipation of any threat. Graduates and their families will receive detailed information about the graduation ceremonies directly from the schools.
Survey on Security Will Launch May 16 to D113 Parents, Students and Staff
Please watch your email on Friday for more detailed information about a survey on security that will launch on May 16 and close May 21. The survey will be conducted by a public opinion research firm, Public Opinion Strategies. The survey will be distributed via text message to the cell phone numbers District 113 has on file. Each recipient will access the survey through a unique link. All responses are anonymous. Analysis of the data from the survey will be shared at the May 30 meeting.
Who will receive a link to the survey?
Ethan's Law
Formally known as Senate Bill 1521, Ethan's Law, if adopted and signed into law, will require gun owners in Illinois to secure their firearms in a "secure gun storage or safety device" if a minor is likely to gain access to the firearm without permission, or if a resident of the dwelling cannot legally possess a firearm under federal, state or local law. Board President Dan Struck observed that supporting this law is consistent with the resolution the Board of Education approved after the July 4 shooting in Highland Park that calls on legislators to increase gun safety laws.
Director of Security
The posting for a District 113 Director of Security has received several applications and will close May 15. The Director of Security will oversee the security function in both schools, including training, procedures, and recommendations for improvement, as well as serve as a backup school resource officer (SRO) in the event of an absence of a building's regular SRO. The goal is to have the position filled by July 1.
The Board continues to discuss and evaluate security enhancements at its meetings and a summary of all the discussion and action items in its meeting are shared in Board Briefs, sent on Fridays following a regularly scheduled Board meeting.
Thank you for your support of District 113.
Bruce Law, Ed.D.
Superintendent of Schools
---
Estimada comunidad del Distrito 113,
Seguimiento de la seguridad de la reunión de la Junta de Educación del 9 de mayo
Compartió más información sobre seguridad mejorada en la graduación

Encuesta anunciada para recopilar comentarios de padres, estudiantes y personal para lanzar el 16 de mayo

El análisis de los datos de la encuesta, así como el Consultor de Seguridad del Distrito, Paul Timm, se llevará a cabo en la reunión del 30 de mayo

Actualización sobre la Ley de Ethan; puesto de director de seguridad
La seguridad de nuestros estudiantes y personal es nuestra primera prioridad, por lo que lógicamente se deduce que el tema de la seguridad es lo suficientemente importante como para enviar un correo electrónico por separado con los aspectos más destacados de las discusiones de la Junta anoche.
Seguridad mejorada en la graduación
Como se anunció anteriormente, la seguridad en la graduación se alineará con los procedimientos de seguridad habituales de Ravinia en los conciertos. ¿Qué quiere decir esto?
Todos los participantes deben producir un boleto.

Todos los participantes deben pasar por detectores de metales.

Todas las bolsas están sujetas a revisión.

Los equipos K-9 patrullarán los terrenos.

Como en años anteriores, el personal de seguridad en el lugar incluirá seguridad del D113, seguridad de Ravinia y miembros del Departamento de Policía de Highland Park.
Las familias que planean asistir a la graduación deben planificar con anticipación y permitir tiempo adicional para la entrada. Para reiterar, estos son los procedimientos de seguridad regulares de Ravinia; no son en respuesta o en previsión de ninguna amenaza. Los graduados y sus familias recibirán información detallada sobre las ceremonias de graduación directamente de las escuelas.
La encuesta sobre seguridad se lanzará el 16 de mayo a D113 padres, estudiantes y personal
Mire su correo electrónico el viernes para obtener información más detallada sobre una encuesta sobre seguridad que se lanzará el 16 de mayo y cerrará el 21 de mayo. La encuesta será realizada por una firma de investigación de opinión pública, Public Opinion Strategies. La encuesta se distribuirá por mensaje de texto a los números de teléfono celular que el Distrito 113 tiene archivados. Cada destinatario accederá a la encuesta a través de un enlace único. Todas las respuestas son anónimas. El análisis de los datos de la encuesta se compartirá en la reunión del 30 de mayo.
¿Quién recibirá un enlace a la encuesta?
Ley de Ethan
Conocida formalmente como el Proyecto de Ley del Senado 1521, la Ley Ethan, si se adopta y se convierte en ley, requerirá que los propietarios de armas en Illinois aseguren sus armas de fuego en un "almacenamiento seguro de armas o dispositivo de seguridad" si es probable que un menor tenga acceso al arma de fuego sin permiso, o si un residente de la vivienda no puede poseer legalmente un arma de fuego según las leyes federales, estatales o locales. El presidente de la junta, Dan Struck, observó que apoyar esta ley es consistente con la resolución que la Junta de Educación aprobó después del tiroteo del 4 de julio en Highland Park que insta a los legisladores a aumentar las leyes de seguridad de armas.
Director de Seguridad
La publicación para un Director de Seguridad del Distrito 113 ha recibido varios solicitantes y se cerrará el 15 de mayo. El Director de Seguridad supervisará la función de seguridad en ambas escuelas, incluida la capacitación, los procedimientos y las recomendaciones para mejorar, además de servir como una escuela de respaldo. oficial de recursos (SRO) en caso de ausencia del SRO regular de un edificio. El objetivo es tener el puesto ocupado antes del 1 de julio.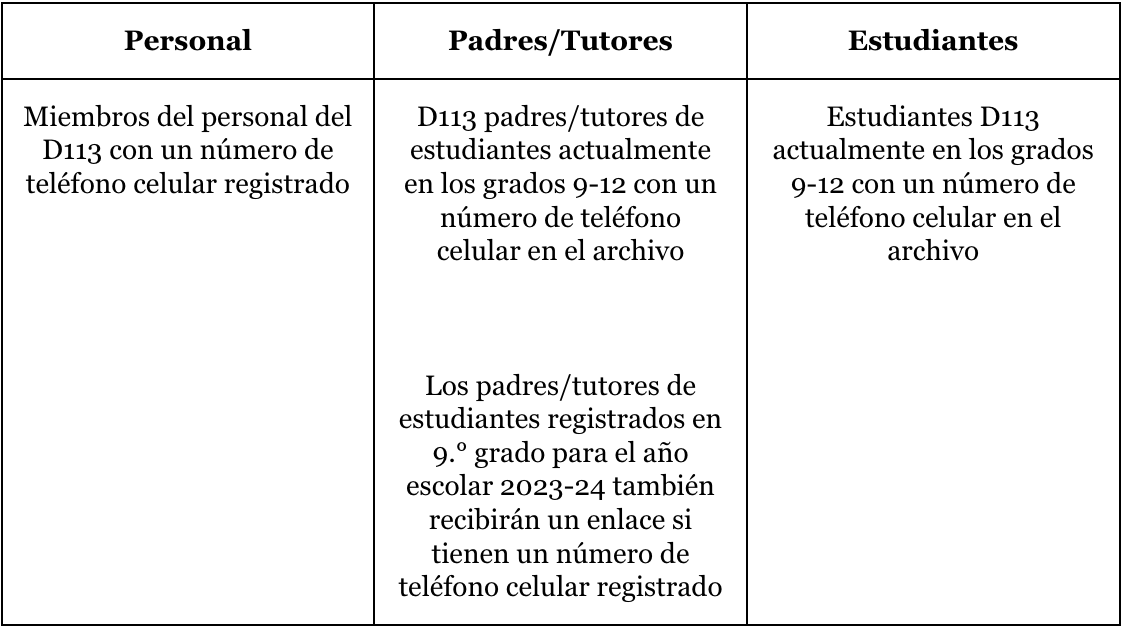 La Junta continúa discutiendo y evaluando las mejoras de seguridad en sus reuniones y se comparte un resumen de todos los temas de discusión y acción en su reunión en los Resúmenes de la Junta, que se envían los viernes después de una reunión de la Junta programada regularmente.
Gracias por su apoyo al Distrito 113.
Bruce Law, Ed.D.
Superintendente de Escuelas