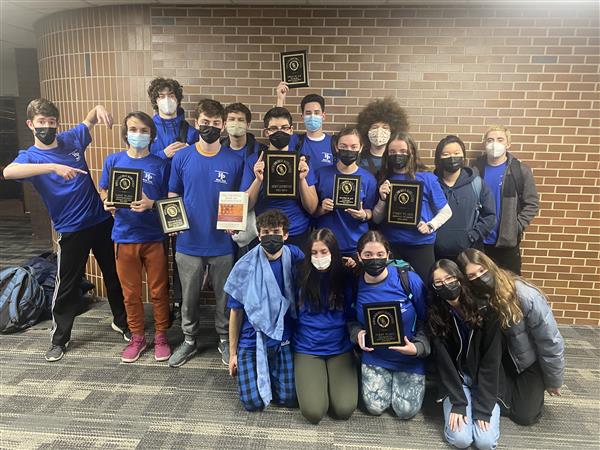 In the 2021-22 school year, our Mathletes dominated the NSML Conference Meet, placing 1st in the Division for Freshman, Sophomore, and Senior teams, 2nd in the Division for our Junior and Oralist teams, and 1st in the Division as an Overall Team. Senior, Ari Nathanson, also was a recipient of the John Benson Award. Way to go, HP Mathletes! We are looking forward to an incredible 2022-23 season!
Welcome and Overview
Welcome to Math Team!

Do you like puzzles? Do you like applying prior knowledge to new concepts? Math Team is an opportunity for students to explore and compete in areas of mathematics that are not covered in regular classes. Our Mathletes are collaborative, curious, and competitive. We work together to explore non-traditional math problems that intrigue and stretch our minds. HPHS Mathletes compete against 55 other schools in the North Suburban Math League, and meet other students who are enthusiastic about mathematics. Please send Mrs. Gapinski and Mr. Hagberg an email if you are interested in joining!
Meet the Sponsors!

Mrs. Gapinski: This is Mrs. Gapinski's 3rd year coaching Math Team. "I love the camaraderie between the Mathletes at practices and on the bus. I especially love the excitement, laughter and overall enthusiasm by our Mathletes when they learn a new concept beyond the traditional mathematics curriculum and are able to problem-solve critically on individual contests or collectively on an 8-person team."

Mr. Hagberg: This is Mr. Hagberg's 4th year teaching and his 3rd year coaching Math Team. "My favorite thing about coaching Math Team is seeing and hearing all of our Mathletes work together, share ideas, and challenge one another. Even when preparing for the Individual contests, Mathletes collaborate, build each other up, and support one another. Because of this, all successes are shared amongst every member of the team."

Ms. Wilson: This is Ms. Wilson's 19th year teaching math and her 10th year at HPHS. She was previously a Math Team coach at HPHS and looks forward to returning as a coach this year! She looks forward to working with the Mathletes as they explore math concepts in a creative way!