Return to Headlines
Entry for Counseling Services at HPHS moves to H-Entrance; FBI Releases More Information about Picking Up Personal Effects | El FBI publica más información sobre la recogida de efectos personales
July 7, 2022 | 7:35 a.m.

Dear 113 Community,

There are two updates to share with you this morning regarding counseling services and the FBI's Family Assistance Center (FAC) at Highland Park High School.
The entrance to receive services at Highland Park High School has moved from the main entrance on Vine Street to the H-Entrance. The H-Entrance is on the north side of the school, near St. Johns Avenue and Woodpath Lane. Only the H-Entrance will be open. All visitors will check in at the H-Entrance and per school standard operating procedures, anyone who is not a current District 113 student or staff member who wishes to take advantage of counseling services will need to have a valid driver's license to be cleared to enter the school.
The FBI has released a map and information about personal effects from the parade route that have been cleared for pick up at Highland Park High School. That information can be found via Twitter at @FBIChicago, or by clicking on the two attached images. When District 113 receives the attached files in the appropriate format, the files will posted on the District 113 website.
As a reminder:
Today's hours at Highland Park High School are 9 a.m. to 9 p.m.
At Deerfield High School, counseling services will also be available during Summer School hours for District 113 students and staff only.
North Shore School District 112 will be offering counseling services at NSSD 112 locations for NSSD 112 families, and the details are in this communication.
Bruce Law, Ed.D.
Superintendent of Schools
---
Estimada comunidad de 113:
Hay dos actualizaciones para compartir con ustedes esta mañana con respecto a los servicios de consejería y el Centro de Asistencia Familiar (FAC) del FBI en Highland Park High School.
La entrada principal en Vine Street a la entrada H. La entrada H está en el lado norte de la escuela, cerca de St. Johns Avenue y Woodpath Lane. Solo la entrada H estará abierta. Todos los visitantes se registrarán en la entrada H y según los procedimientos operativos estándar de la escuela, cualquier persona que no sea un estudiante actual del Distrito 113 o un miembro del personal que desee aprovechar los servicios de asesoramiento deberá tener una licencia de conducir válida para poder ingresar la escuela.
El FBI ha publicado un mapa e información sobre los efectos personales de la ruta del desfile que han sido autorizados para recogerlos en Highland Park High School. Esa información se puede encontrar a través de Twitter en @FBIChicago, o haciendo clic en las dos imágenes adjuntas. Cuando el Distrito 113 reciba los archivos adjuntos en el formato apropiado, los archivos se publicarán en el sitio web del Distrito 113.
Como recordatorio:
El horario de hoy en la Escuela Secundaria Highland Park es de 9 am a 9 pm
En la Escuela Secundaria Deerfield, los servicios de asesoramiento también estarán disponibles durante el horario de la Escuela de Verano solo para los estudiantes y el personal del Distrito 113.
El Distrito Escolar 112 de North Shore ofrecerá servicios de asesoramiento en las ubicaciones de NSSD 112 para las familias de NSSD 112, y los detalles se encuentran en este comunicado.
Bruce Law, Ed.D.
Superintendente de Escuelas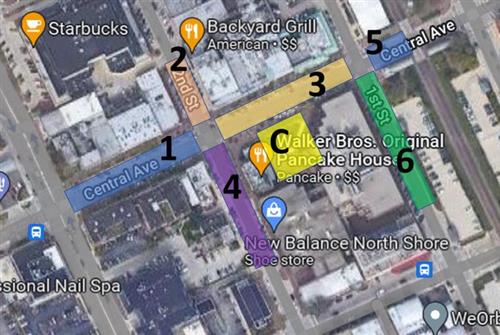 What belongings are available now and where can the public find their belongings?

Easily identifiable belongings that were dropped in the below locations (areas 1, 4, 5, and 6 on the attached Google map) are available for pick-up at the FAC during open hours:

On Central between Green Bay and Second
On Central between First and the railroad tracks
On Second between Central and Laurel
On First between Central and Laurel

What is an easily identifiable belonging?

Any item that can easily be reunited with an owner. Examples would generally be purses, bags, bicycles, phones, and strollers.

When will other belongings be available and why is there a delay?

After items are evaluated for investigative value, they will become available for pick-up. This process will unfortunately take time, but we will update the community as quickly as possible.

Can someone pick up someone else' belongings?

Each person may only pick up their own belongings.
¿Qué pertenencias están disponibles ahora y dónde puede el público encontrar sus pertenencias?

Las pertenencias fácilmente identificables que se dejaron en las siguientes ubicaciones (áreas 1, 4, 5 y 6 en el mapa de Google adjunto) están disponibles para ser recogidas en el FAC durante el horario de atención:

En Central entre Green Bay y Second
Sobre Central entre Primera y las vías del tren
Sobre Segunda entre Central y Laurel
Sobre Primera entre Central y Laurel

¿Qué es una pertenencia fácilmente identificable?

Cualquier artículo que se pueda reunir fácilmente con un propietario. Por lo general, los ejemplos serían carteras, bolsos, bicicletas, teléfonos y cochecitos.

¿Cuándo estarán disponibles otras pertenencias y por qué hay un retraso?

Después de que se evalúe el valor investigativo de los artículos, estarán disponibles para ser recogidos. Desafortunadamente, este proceso llevará tiempo, pero actualizaremos a la comunidad lo más rápido posible

¿Alguien puede recoger las pertenencias de otra persona?

Cada persona sólo podrá recoger sus propias pertenencias.