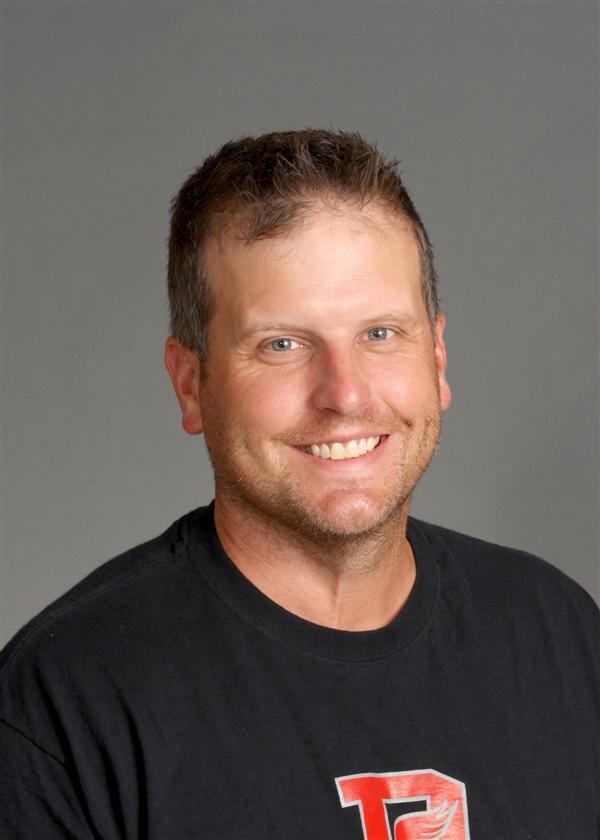 Phone: 224-632-3294
Email:
Degrees and Certifications:
Jeremy C. Kauffman (e) jkauffman@dist113.org PROFESSIONAL EXPERIENCE Deerfield High School, Township High School District 113 1998-Present Social Studies Teacher • Taught a variety of courses including People in their Changing Society for freshmen and sophomores, Freshmen Advisory, Standard US History for juniors, Standard Psychology for seniors, Advanced Placement Psychology for sophomores and seniors. • Currently teach Standard US History, Freshman Advisory, and Advanced Placement Psychology. • Created and implemented the 1st AP Psychology curriculum at Deerfield in 2000-2001 that have grown from two sections to ten sections over the course of the program that has been continually redeveloped and revised. Sophomore Executive Board Chair-2015-Present * Successfully promote and organize Homecoming *Successfully have raised funds for the Annual School Chest Fundraiser through Community Game Night experience. * Successfully implemented the annual spring philanthropy project Harry D. Jacobs High School Community District 300 1996-1998 • Taught a variety of courses including Standard US History for juniors, Standard Introduction to Psychology for juniors and seniors, Advanced Psychology for juniors and seniors. • Revised and implemented the Introduction to Psychology and Advanced Psychology curriculums • Assistant Boys and Girls Track and Field Coach with a focus on hurdles, jumps, and distance. Head Track & Field Coach Deerfield High School 1999-2015 • Developed the Track & Field program from 38 athletes in 1999 to currently 104 athletes in the program. • Designed and implemented the Warrior Way Student Athlete Five Alive program that has produced numerous all academic, all conference, all state athlete, and collegiate athletes. • Nominated for Illinois Track & Field and Cross Country Coaches Association 2011 3A coach of the year • Earned 60 Team Championships across all levels. • Won first IHSA 3A Sectional Title in school history • Earned 5th place team at the 2011 IHSA State Championships. Head Cross Country Coach Deerfield High School Assistant 2004-2005, Head 2006 to 2014 • Implemented and modified the student athlete PAAVO progressive season training programs in 2006. • Developed the student athlete philosophy of the Deerfield Distance Crew and the Ten Landmarks of a successful student athlete that lead to numerous all conference, all sectional, all state, and collegiate athletes. • Nominated for Illinois Track & Field Cross Country Coaches Association 2014 2A Cross Country Coach of the year. • Won 4 CSL North Varsity Conference Championships, three IHSA Regional Championships, and Deerfield's fourth Sectional Championship in school history in 2014. • Earned top 10 team finishes at the 2012 and 2014 IHSA State Championships. Lake Zurich Middle School South Track & Field Coach 2016-2017. * Coached multiple Boys and Girls in All Conference, All Sectionals, and IESA State Qualifiers Head Girls Track & Field Coach Lake Zurich High School 2018-Present. *Won LZHS 1st North Suburban Conference Championship. *Qualified multiple athletes to the IHSA State Chamiopnships Great Lakes Running Camps Asst Director 2014-Present EDUCATION Northwestern University 2015-2017 Post Graduate Certificate of Advanced Study in Educational Leadership Northern Illinois University 1999-2003 Master of Science in Education, Educational Administration Illinois Certificate/Professional License in Grades 6-12 Illinois Coaching Certificate Grades 6-12 Endorsements: US History, World History, Psychology Eastern Illinois University 1992-1995 Bachelor of Arts in Secondary Education SERVICE • Deerfield Summer Training Camp Director and counselor 2005-2014 • PAAVO Running Camp Counselor 2013 • Great Lakes Running Camp Director and Counselor 2014 –Present LEADERSHIP • Sergeant United States Marine Corps Reserve 1991-1998 o Squad leader for Charlie Co 6th Engineer Support Battalion o Squad Leader and Meritoriously promoted to the rank of Private First Class at Marine Boot Camp o Nominated and attended Non Commissioned Officer School earning the rank of Sergeant o Earned the United States Defense Service Medal for Active Duty during Operation Desert Storm
Mr.

Jeremy Kauffman

Social Studies Teacher 1996-Present

AP Psychology & US History

Sophomore Executive Board Sponsor 2014-Present
Mr. Kauffman's Intro to Psychology Google Community

Mr. Kauffman's US History Google Community

This is the homepage to the US History Class and includes ALL class information.

Mr Kauffman's AP Psychology Google Community

This is the homepage for AP Psychology where ALL class information can be found.