Return to Headlines
Chamber of Commerce Honors Students!
Congratulations to 18 senior class students who were nominated by HPHS teachers and chosen as a Chamber of Commerce student award winner. Students were honored at a dinner that was held on April 6th at the Highland Park Country Club.
These students represent HPHS and what it means to be a "True Giant!" Each student received a $1,000 scholarship from one of the following sponsors:
The William S. Bardford Scholarships, First Bank of Highland Park, NorthShore University HealthSystem-Highland Park Hospital, Academic Tutoring Centers, D&R Autoworks, American Legion Post #145 Highland Park, Ravinia Festival, Highland Park-Highwood Lions Club, Bulldog Security, 22nd Century Media/The Highland Park Landmark, and the Highland Park Chamber of Commerce.
It was a wonderful evening honoring these 18 students. The HPHS Jazz Combo filled the evening with wonderful music; Mr. Tom Vogelsang created a memorable video that was presented - featuring the students (view below); and Dr. Tom Koulentes, HPHS Principal, delighted the audience with personal stories - giving a great perspective on each student.
Thank you to everyone that participated in making this a very special evening. Special thanks to Ms. Ginny Glasner, President of the Chamber of Commerce. Most of all, congratulations to these outstanding Giants!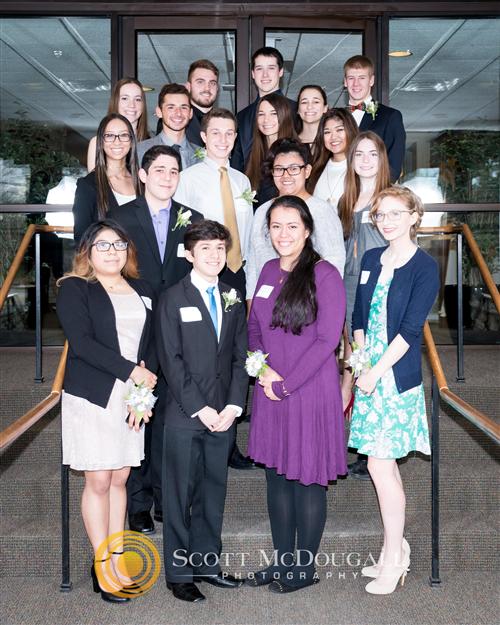 Photo on the left: Row 1: Ana Perez, Juan Estela, Aurora Zamudio-Lopez, Isabel Miller - Row 2: Jacob Resnick, Maria Lola Rincon, Kenzie Bernstein
Row 3: Estefania Gomez, Jonathan Rosenfeld, Giselle Fesalvo - Row 4: Eden Shraiberg, Charles Skurie, Nicole Berardi,
Hannah Nussbaum - Row 5: Michal Steczek, David Barrette, Hugh Laedlein (not pictured: Isaac Nava)
Photo on the right: Dr. Tom Koulentes, Principal
Video below created by Mr. Tom Vogelsang, HPHS Media Center Director/Teacher